Solutions
The e*star energy trading suite offers a multi-market commodity trading experience whilst providing secure and reliable solutions — embedded features for trade automation, market making, order routing and quoting as well as implied prices, are just the first points on our long feature list.

e*star trading is based on approved core components such as the e*star Internal Market, e*star Energy Trader as trading frontend, e*star Algorithmic Trading Solution and the e*star Market Adapter for price information and deal capture.

We want to let you participate in the world of energy and commodity trading in a safe and flexible environment.
The e*star solution approach allows the customer to extend the functionality based on their individual requirements. While focused around standardised products and support for all commodity types, the flexible instrument master data management allows you as the user to define exotic or customer or company-specific products.
Integrating e*star trading in your service landscape allows you to receive updates and support from our skilled and experienced consultants.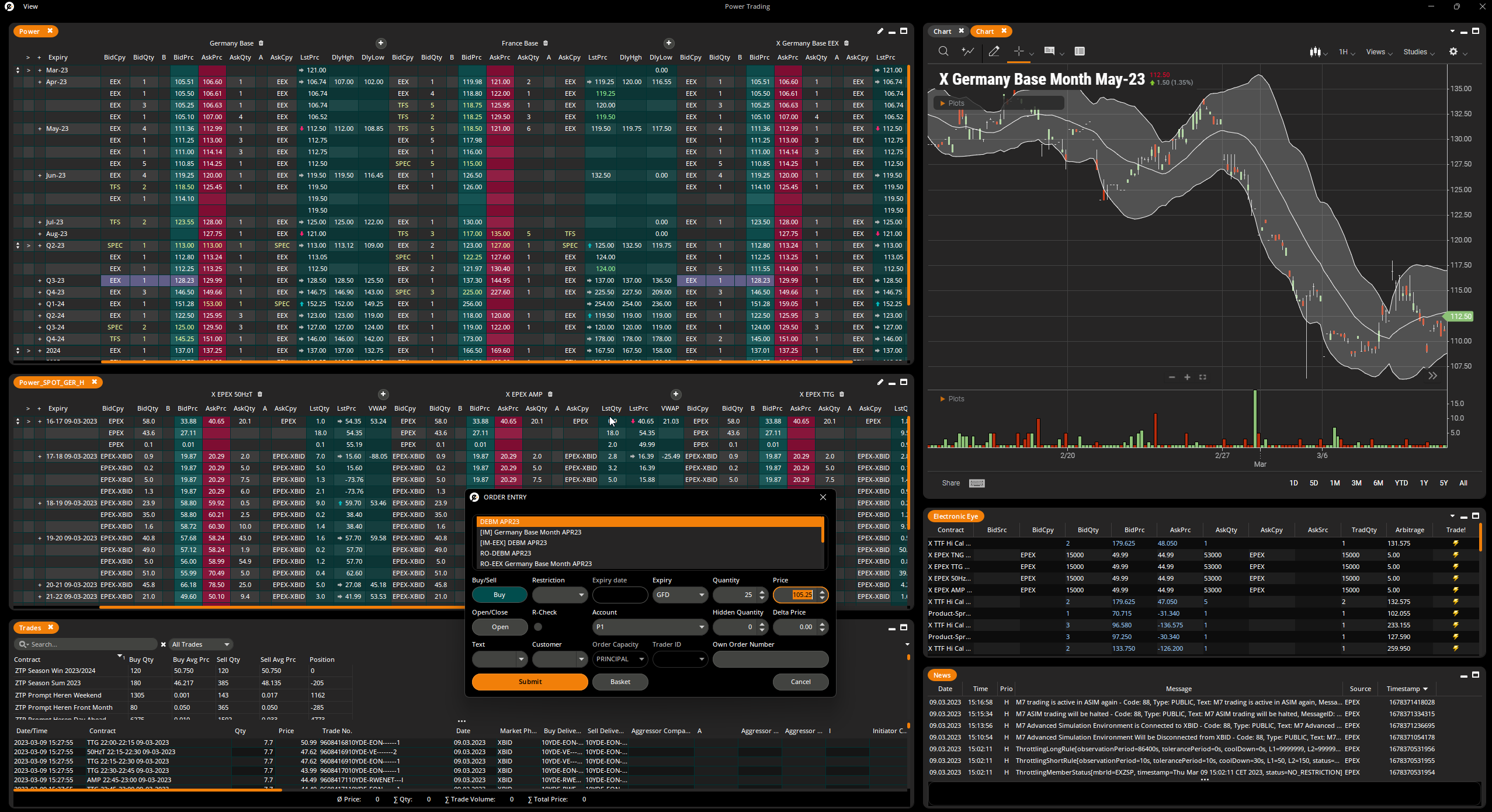 Market Matrix
Consolidated order book showing associated market depth based on data received from multiple markets
Implied Prices
Venue implied prices with exchange or broker-guaranteed execution
Trades
Your trades list can be configured to your needs by sorting and filtering using any field.
Order Entry
The default parameters for the order entry dialog can be changed at the corporate and at the individual trader levels.
Charting
All charting tools available to create reliable and secure data visualizations
Electronic Eye
Identifies arbitrage situations with immediate execution possible.
News
Market News and messages from exchanges
Every module a star
You have individual requests? We will be happy to answer them: with versatile modules we customize our SaaS Solutions to the needs of your energy business.
e*star Energy Trader
The frontend is a technologically advanced multi-asset screen tailor-made for Commodity Trading, Internal Trading, Sales Trading and Data Capture. It includes all the necessary tools, like smart order types & algorithmic trading solutions -- making it cutting-edge for traders.
The e*star Energy Trader client is also one of the trading frontends for the e*star Internal Market; parallel access to external and internal trading makes it a super-sufficient offering for secure indirect market access. Advanced market-making functionality is also part of the feature set and can be used for external and internal market-making.
e*star Algorithmic Trading Solution
Develop your own customized trading algorithms. Our solution supports the integration for market-access and non-market-access users and different algorithms while allowing various programming languages (Java, C#, Python etc) and connection technologies. It includes execution algorithms to perform market-specific actions as well as general business strategies. The e*star Algorithmic Trading Solution supports you in the different levels of algorithmic or automated trading:
Assisted Trading: support a trader in the execution of his tasks by extending the client functionality. Automated Trading: Automated standard tasks triggered by events or your backend systems. Algorithmic Trading: Create your own strategies, including third-party systems or tools.
All convenience functions to automatically target different venues and platforms, solve choice market situations are included so that you can focus on the business.
e*star Market Place
The e*star Market Place is your own highly configurable electronic trading platform, where you can concentrate external market access per commodity on specialized traders while still providing all traders real-time market data and order and deal entry capabilities with optional internal netting between desks. Depending on individual needs, expanding functionalities can be provided. How the e*star Market Place supports communication, workflows and the whole deal capture lifecycle? Discover more Information in our product sheet.
e*star Market Adapter
The e*star Market Adapter is a server component which connects via read-only to different markets and receives forward and historical data from all connected markets. The received data are own and all trades, own orders, continuous order book feed, order book snapshots or tick data.
The e*star Market Adapters can generate price and trade feeds from different external markets for e*star Internal Market price feeds as well as storing all market data for reporting (into an Oracle or MS-SQL database) are part of the solution.
e*star Customer Hub
Manage your customer interactions effectively with a user-friendly and intuitive interface such as the e*star Energy Trader or e*star Web Trader. The e*star customer hub supports various workflows like actively quoting prices to your customers based with highly configurable spreads, routing customer orders to exchanges and brokers in real-time or answering quote. Discover further key features of our Hub by downloading our product sheet.
e*star Live Data Portal
The e*star Live Data Portal platform for energy market developments offers a central
point for market information. It allows f
lexible and fast integration of the solution throughout a web client.
Demo video.
Watch our demo video and find out why our frontend can bring your trading experience to the next level.
Ease of use, good overview, advanced features: Together with our users and the UX/UI team from Exxeta, we've thought about how we could meet these requirements in a best possible. The result is a brand new, intuitive trading frontend. But enough of the script, come and look at it yourself.
What can we do for you?
Contact us and learn about the scalability of our SaaS technology. We are looking forward to your challenge.